Since Bowers & Wilkins are celebrating their 50th year anniversary creating speakers, I found it a good occasion to bring back and dust off my good old trusty B&W 805 Matrix speakers, having them back in the home stereo.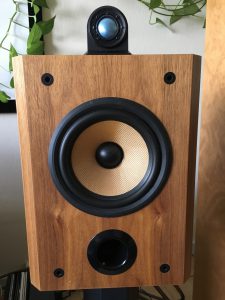 Though my 805's are "only" 19 years old (they were introduced in 1993), they had good few years on their back with incredible reviews, being used as near field monitors at the Abbey Road studios, when I bought them in the fall of 1997.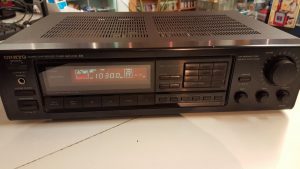 It was a major spend for a young man still in college, price for the set at the time was 7.000 DKK (10.000 DKK in todays money), and also a huge upgrade of my existing stereo which consisted of a pair of Bowers & Wilkins entry level Series 200 speakers, namely the floor standing model 204. To drive this I had an Onkyo TX-903 receiver, with an Onkyo DX-705 CD-player as the main source. The TX-903 may have been a bit underpowered for the Matrix 805's, but despite this, the improvement were significant.
Still remember the day when the speakers arrived, ordered them in Walnut veneer, instead of the standard Black Ash finish, so had to wait a few weeks after I ordered them. They were bought in Hi-Fi Klubben, and i were allowed to bring them home, without unwrapping them in the store – it was apparently the first time someone had ordered them in the Walnut finish, so they wanted to see them before I left, and they were not disappointed – neither were I.
In the summer of 1999 I started scouting for a replacement for the TX-903 receiver, looking mainly at the danish Holfi and Densen. After long listening sessions, Densen won and the B-200 & B-300 combo made it into the setup, a few months later the DX-705 were replaced with a Marantz DV7000 DVD player. The B-200 & B-300 were a much better match for the 805's.
The DV7000 failed after 1.5 years, and were replaced with a Densen B-400 CD-player and a cheap Pioneer DVD-player.
Then in 2004 it was time to upgrade the speakers. I loved the 805's sound, but needed a bit more in the bottom end, so started looking for a floor standing speaker. The most natural replacement would have been the new B&W 803's which had just been introduced, however I stumbled on JMLab/Focal, and after listening to their Electra series, there were no doubt – the musicality of the Electra combined with Densen, was and is simply amazing. So the 805's were replaced with a pair of Electra 937 BE (Focal's 25th anniversary upgrade of the 936), and they are still my main drivers today.
The Matrix 805's were first used as surround speakers in the home cinema upgrade, though they were not really suited for that purpose, and later they became the most fantastic PC-speakers, though maybe a bit over-kill.
The good old Bowers & Wilkins Matrix 805 are still a treat to listen to, and they regularly return to the spotlight in the main-stereo, reminding me how much sound can be produced by such a small speaker – no need for a subwoofer here.